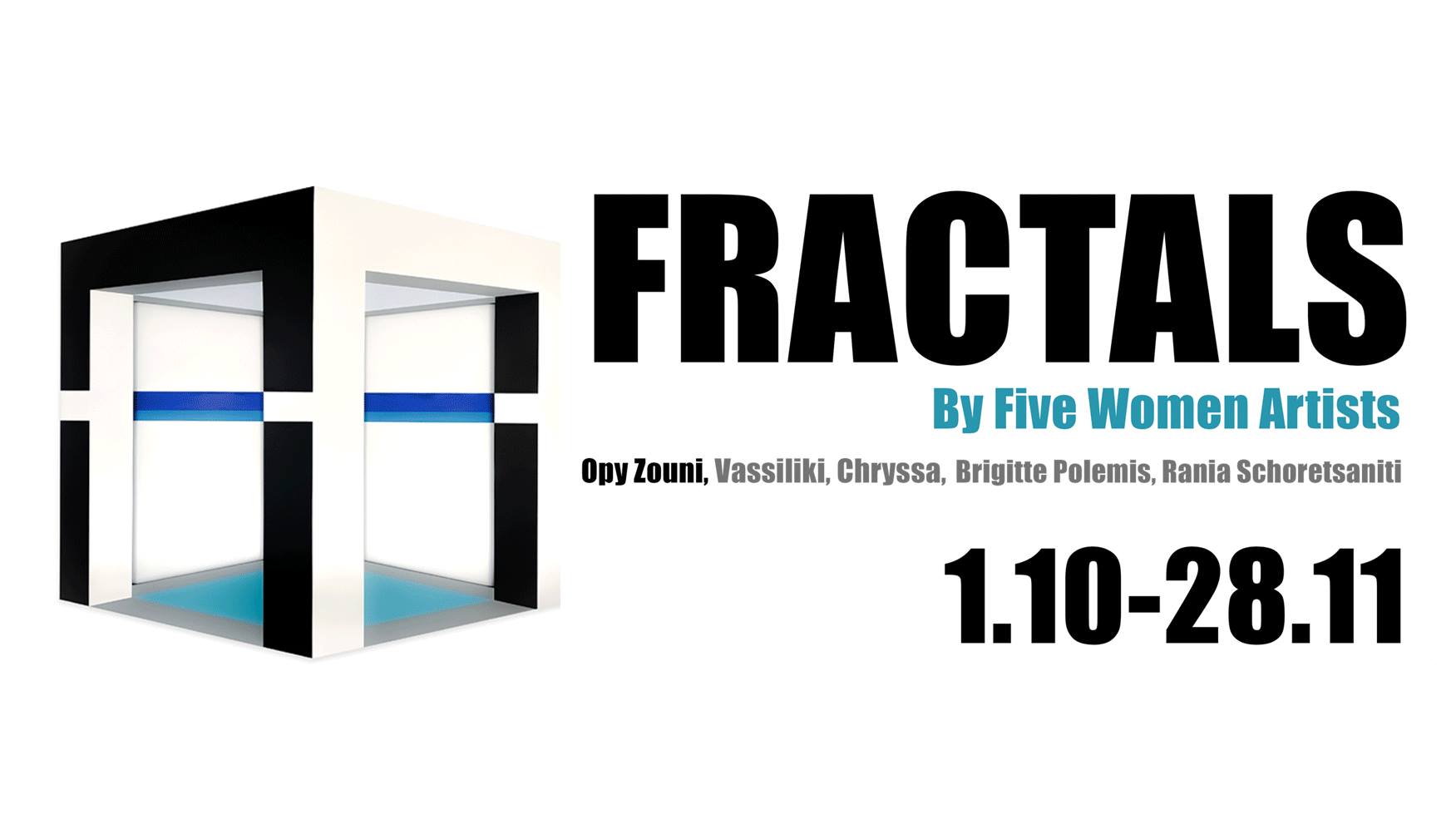 Chryssa, Opy Zouni, Vassiliki, Brigitte Polemis, Rania Schoretsaniti
1st of October – 28th of November 2021
Monday, Wednesday, Saturday: 11:00 – 15:00
Tuesday, Thursday, Friday: 11:00 – 21:00
Mamush Gallery
Benakeio Shopping Center, Panagitsas 3, Kifissia, Greece.
Mamush Gallery welcomes autumn with the FRACTALS exhibition.
Works by five international women artists, of different generations, but with remarkable common elements that the visitor is invited to explore. Starting from the geometric elements in their art but also their personal philosophy as it was formed and expressed with passion and consistency through their works, the exhibition will offer a new approach, knowledge, and aesthetic pleasure to our visitors.
Read more
The "Panorama" section of the "Meteortia" exhibition closes with a great tribute to Thessalian painting as we have tried to explain, diverse artists, older and younger, co-exist, so that any composition of this particular group exhibition emerges through the contrasts or the controversies of the individual as a result of a historically and aesthetically "honest", I hope, compromise. Attributing what is due to the national memory, interpreting as much as possible the "familiar evils" but also foretelling, as only art can do, the future we deserve
Read more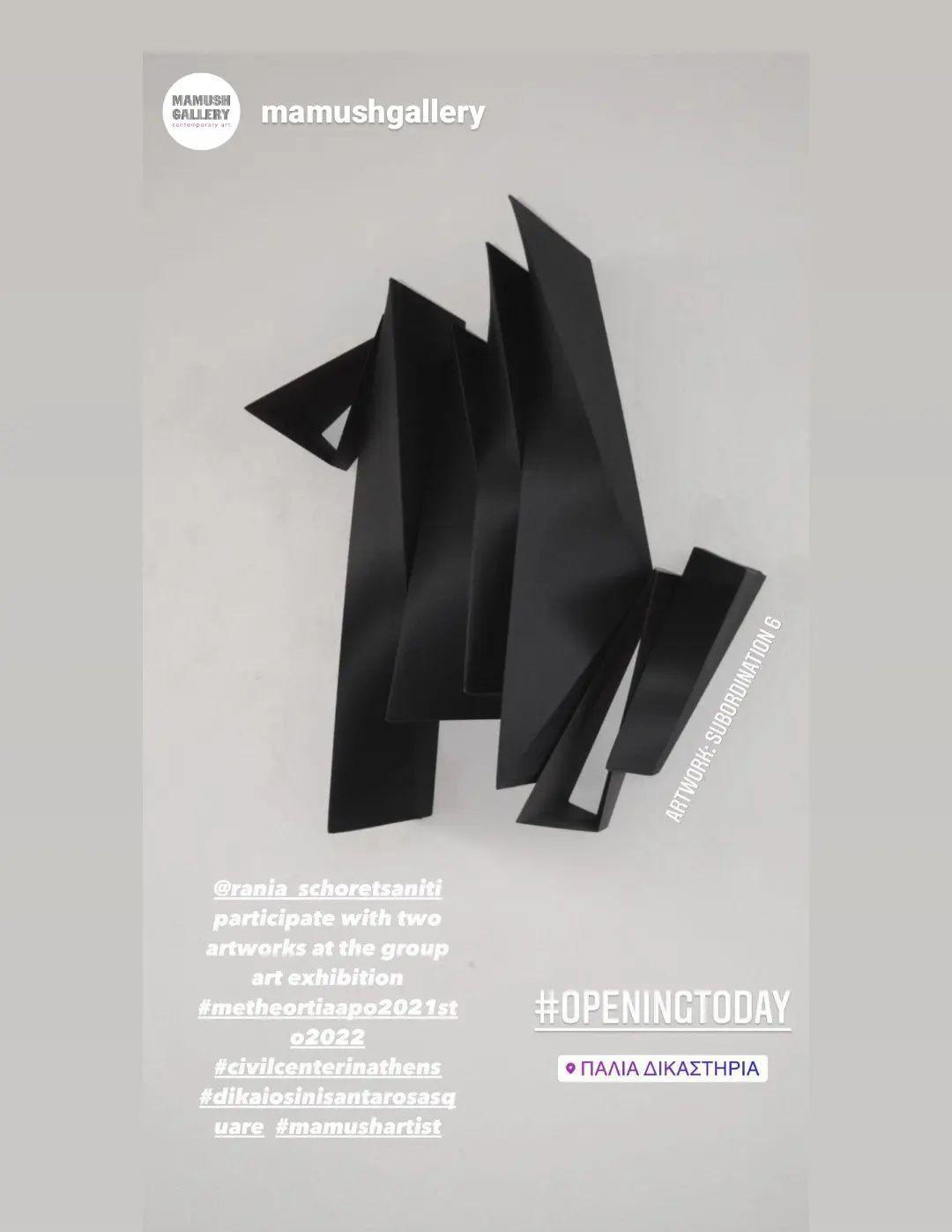 A Little Intro
Rania Schoretsaniti (b. 1971, Greece) studied Painting at the School of Fine and Applied Arts, University of West Macedonia, Greece (2009-2014). In 2014, she spent as an Erasmus exchange student one semester in an NHL Hogeschool (The Netherlands). She continued her studies in Engraving at the Athens School of Fine Arts, Greece (2014). ​In 2017, she received her MFA Fine Arts from Slade School of Fine Arts, University College London, UCL (with distinction). In 2020, studied Special education and training and in 2021 Art Therapy with an Emphasis on the Visual Arts at the University of the Aegean, Greece. From 2021 she is a Ph.D. candidate at the Department of Visual and Applied Arts, University of Western Macedonia, Greece.
Schoretsaniti has exhibited widely both internationally and in the Greece including solo/group presentations such as "The validity preciousness", Museu Da Vila Velha, 8th International Printmaking Biennial of Douro, Portugal, 2016; "Tribuna Graphic" 2017, Art Museum Cluj-Napoca, Romania, 2017; "3rd Global Print" 2017, Douro, Portugal; "Incisioni al femminile", Rassegna Biennale Internazionale – Edizione 2017, Napoli, Italy; 9th International Printmaking Biennial of Douro, Portugal, 2018; "Materia", Rosenfeld Porcini Gallery, London, U.K. 2019. "COVIMETRY" Ely Center of Contemporary Art, New Haven, Connecticut, USA, 2021; "Fragments' Metamorphosis", Twin Ottoman Bath of Trikala, Greece, 2021. Importantly, she was awarded with the prestigious 'Desiree Painting Prize' (Excellence In Painting 2017, The Slade School Of Fine Art UCL, London). She taught (2018- 2020) as an adjunct lecturer at the Fine and Applied Arts, University of West Macedonia, Greece. Her works can be found in Greek and international collections as well as museums.